How to use forbitspace on Avalanche?
December 15, 2021

Views: 361
Avalanche (AVAX) is a blockchain platform with smart contracts that focuses on transaction speed, cheap prices, and environmental friendliness. Moreover, of any proof-of-stake system, Avalanche has the most validators securing its activity.
Avalanche is a blockchain that is compatible with Ethereum. The Avalanche Bridge is used by the platform to make moving ERC-20 tokens simple and anyone can use Avalanche to create Ethereum smart contracts.
First, you need to create your MetaMask wallet on Avalanche.
Install Metamask on PC
Visit the webpage at https://metamask.io/;
Download Metamask;
If you are using Google Chrome, select "Install Metamask to Chrome".
Browsers that Metamask supports: Google Chrome, Microsoft Edge, Brave, and Firefox.
Then you will be transferred to Chrome Web Store, click "Add to Chrome".
Wait a few moments for it to download.
Create an account
After the download is complete, a new webpage will appear. This is where you finish all of the steps required to create a Metamask account.
If you haven't had a wallet before, click "Create a wallet".
Set a password with 8 characters. Then "Create".
There will be a Secret Recovery Phrase. This is extremely important data and you should store it in a safe place where no one else can access it.
Confirm your Secret Recovery Phrase. And that's it! You can now use Metamask.
Connect your MetaMask to the Avalanche network
At the top right corner of the interface, there is a button for you to switch networks. If the drop-down menu does not contain your intended network, you can click on "Add network" and install them.
Some information you need to provide when adding a new network includes Network Name, New RPC URL, Chain ID, Currency Symbol, Block Explorer URL (Optional). You can find that information below.
You have connected to the Avalanche mainnet with your Metamask Wallet. This e-wallet can now be used to conduct transactions on any internet platform, including forbitspace.
How to use Metamask when trading on forbitspace?
The forbitspace is an interoperability aggregator protocol that unites decentralized applications across disparate blockchains and allows traders to profit from an outsized sort of financial tool during a single interface.
The forbitspace DEX super aggregator brings an efficient algorithm called Spaceflight to automatically search across multiple DEXes, find the best price, optimize the trade route for the trader automatically in a unified and simple interface. By placing a trade with a DEX super aggregator, users can not only expect to receive the most optimal price for a trade but do it as efficiently as possible, in mere seconds as the algorithm solves everything for the trader and routes liquidity through trading paths to ensure the lowest slippage for large trades. 
Using PC:
You go to the "Launch app" section when trading on forbitspace. When clicking on the "Launch app" button, you will be transferred to another interface – The DEX super Aggregator https://app.forbitspace.com/#/swap.
forbitspace's smart order routing takes only 0.3 seconds to discover the DEX(s) that support the best pricing for your transaction each time you enter the quantity you intend to swap. 
In the forbitspace's interface, please connect with Metamask.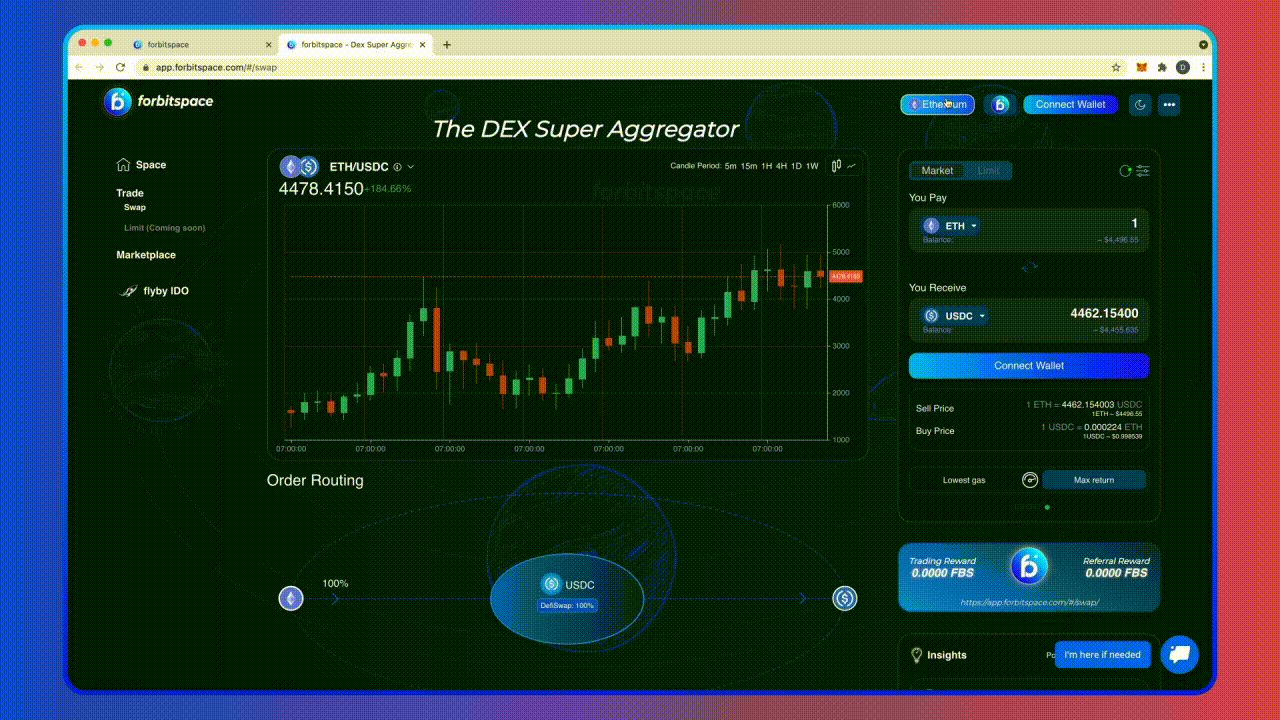 Choose "Switch networks" button;

Select Avalanche Mainnet;
DApp forbitspace – DEX Super Aggregator protocol officially lives on Ethereum, Binance smart Chain, Polygon, and Avalanche. Moreover, forbitspace will soon be available on the Arbitrum and Optimism networks.
Click this button to change your network.
The network indicator will change to "Avalanche Mainnet," showing that you are ready to use Avalanche on forbitspace.
Using mobile:
To start, please install and connect with your Metamask wallet.
Download the Metamask app at the App Store or CH Play;

Log into your MetaMask extension;

Change your network to Avalanche Mainnet;
  Then you will be transferred to

forbitspace's

interface on mobile.
Did this answer your question?